Peace!
Thank you for always checking in and for all your support! My Kickstarter Page is now up to $1545.00 as we are nearing completion for $2500. Please tell a friend and feel free to pass this on. Any donation will help so please pass it on
Here's something new I made..
This character is always following Ryu around in SF2..trying to be like him.. she respects his skills so much.. Making this beat was a huge challenge... but the result came out pretty good... You wanna hear some rapping on it or singing? You let me know :-D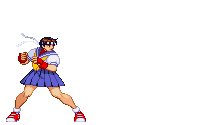 Visit
here
for more Sakura animations
..