THIS POST IS ONLY BUILT FOR PEOPLE WHO REALLY COMPREHEND (whomixedthis? thank u for the encouragement)
One afternoon, I was in the kitchen and saw the Newsday on the table.... normally I hit the zodiac, then skim through the news. I did just that.. I saw in Newsday the other day that a crater in Hawaii collapsed.
Earth's crater collapses in Hawaii
Okay...
I immediately thought about what happens when something large breaks and falls.. it ripples whatever it is.. if it falls to earth.. sound and air around it. I know Hawaii's on the ring of fire based on 9th Grade Earth Science. GOD I hated contour LINES>.. ANYWAYS
Hawaii is water based.. I thought about water and what would happen... THAT SAME NIGHT...my thoughts sparked a dream featuring Clint Eastwood, me and some random lady (white with dirty blonde hair) in my family's house. No one else was home. I was in the living room, towards the back of the room staring forward, I could see... the lady near the window and none other than Clint Eastwood directly in the middle of us two, about 6 feet in between me and him, and 6 feet between him and her
All of a sudden, the woman walks to the window and opens it, water gushing right into the room, it's a SUNNY DAY mind you, maybe 11AM or so. The water rushes from outside and rushes into the house at the fastest pace, kind of like the house was a ship that sank, and finally the water pressure punctured a hole in the ship. Clint Eastwood remained cool and keep staring at me...he didn't even turn around to help here. The woman gets pushed from the window, across the room and into the other room.
Water is filling up in the room, I can tell there is a problem outside and a problem with Clint, he's not moving at all... He was staring at me like he hated the asian family that initially moved into his neighborhood during the movie ... "Gran Torino" Clint was so calm, it was eerie.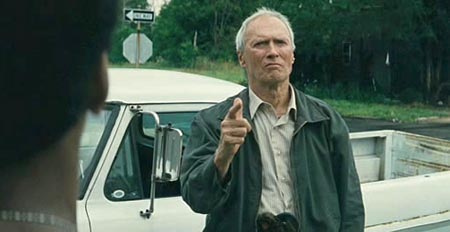 I swear he was gonna light a cigarette before drowning. I made my way to the stairs and ran up to the next level..... I woke up
The dream was so real, I almost got on my podium and wrote a HUGE HUGE HUGE essay to be posted on my facebook status. The thing is... I always worry about if people think that type of thinking is extra. I really don't care about criticism...I just want people to give a fuck about something that is just bigger than their lives and money. I keep thinking if everyone wasn't so stuck on themselves then maybe we can really heal the planet faster.. get rid of plastic etc...
Long story short, I did not post this on facebook...I am kicking myself for doubting myself BECAUSE the TIMING..the TIMING would've been just too on point. I know for now when the passion strikes.. I'll go in.. regardless... can't ever doubt myself... I am curious to see if you have input on what Clint Eastwood's roll was in this dream... After I had my dream, magnetically, this woman, posts a video on youtube, March 8th..predicted a problem in the ring of fire between March 11th and 15th... here's the video... check the date on youtube..it's scary right?
3 Days later, there was a MASSIVE 10+ earthquake in Japan. I can't tell you how upset I am for not posting my dream prior too. NOT LIKE IT MEANS anything... to be proud of but still I should have not doubted myself... Please let me know...I would love to hear from you.
CLINT Represents the old powerful business monsters that refuse to let go of oil for 1 and other things than can simply be replaced by solar energy and water... I've known since I was 10 years old that you can power things solely off the sun and with hydro electric energy. We have plenty of water here...WTF can't we just do it!
I think Clint is the old power that refuses to give in, and Clint is "tough"...so having the old power give in will be a very very tough thing to do...cuz you'd probably have to put a serious whoopin on a character like Clint, knowing if he's going down.. I'm sure not without a fight that will leave a few holes in quite a few bodies....
Clint was not as old as he was in Gran Torino in my dream... maybe this means the old powers are still very young and not willing to be flexible.. harder to fight against if there was a push to powerful get the world to stop using oil, nuclear energy and more...
I pray and hope Japan can break free, fully of America's influence and lead the world in being the first country to run solely off the sun and hydroelectric energy.
I mean why not... Japan has a company named Genepax that runs on nothing but water, tea or soda! I know this is not the 1st design.. why can't we just make the switch...
THE MORAL OF THE STORY IS...DON'T EVER DOUBT YOURSELF OR YOUR ABILITIES, IF YOU KNOW SOMETHING EXPERIENCED SOMETHING DON'T BE AFRAID TO POST IT UP IN A BLOG OR WHATEVER FOR INTERPRETATION ETC.. IT'S WACK WHEN YOU ARE SITTING ON SOME POWERFUL INFO BUT YOUR THE ONLY 1 THAT KNOWS...KNOWLEDGE IS VERY POWERFUL ONCE IT'S SHARED
GET THE LATEST RELEASES FROM MANAFEST VISION MEDIA